IN THE FIELD
SPOT & STALK
AT REST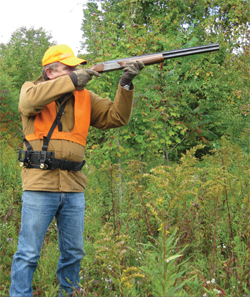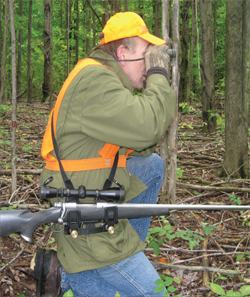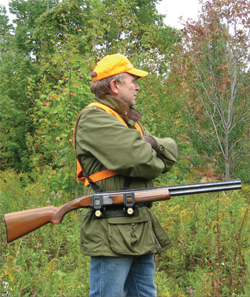 REDI SHOOTER is compact and lightweight. Take it anywhere. REDI SHOOTER will fit any long gun and shotgun is ambidextrous. NO TOOLS REQUIRED REDI SHOOTER is easily adjustable at home, at the range or in the field by just removing and repositioning its two stainless steel pins. For finer adjustment, merely turn the inner or outer brass adjustment knobs for the tension you are comfortable with. Just ONE motion is all it takes for the shooter to be in the firing position.

The REDI SHOOTER uses high strength Delrin®, stainless steel, and brass; designed in the USA and manufactured by Globe Industries, Inc. Houston, TX.
REDI SHOOTER Videos
REDI SHOOTER User Instructions:
To adjust:
Loosen adjusting nut (Fig. 1 with stem) and tension nut (Fig. 2)
Pull out the hinge pins (Fig 3.) and insert when desired holes are lined up.
Use the adjusting nut (Fig. 1) to aid with spring compression on narrow settings.
Proper grip on gun is set by adjusting nut (Fig. 1 with stem).
Tension nut (Fig. 2) increases or decreases pressure.
Caution: Always point your gun in a safe direction.
Printable instructions can be downloaded here.